This article will provide you with some guidelines to follow before recording with your Veo Cam.
---
1. Required conditions

Daylight and/or evenly well-lit environment.
The camera is secure and stable (we don't recommend using it in strong wind).

Minimal activity around the pitch (avoid other balls/players).
---
2. Check before recording
The camera has enough charge. We recommend charging for at least 4 hours before recording.
You have installed the Veo Camera app on your device. Click here to get the iOS app or here to get the Android app.
The Veo Cam has free storage space. You can check this on the camera settings page of the app.
The lenses are clean and free of dust, fingerprints, and/or smudges.
---
3. Set up and record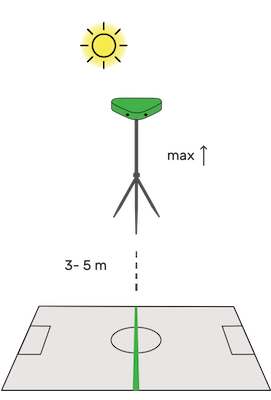 Avoid lights directly pointing into the lenses. Make sure the sun or lights are behind the camera when setting up.
Place the tripod 3-5 meters from the sideline, aligned with the centerline.
Attach the Veo Cam to the tripod, and then turn it on.
Raise the tripod to the maximum height.
Connect to the camera and make sure all four corners are visible on the preview.
If needed, adjust the tripod for better alignment with the centerline.
Press the record button and let the Veo Cam do the rest of the work. Enjoy your game!
---
Important note: Start your recording only after the camera has been placed in the correct position (tripod at the maximum height and aligned with the centerline). Starting a recording and then changing the camera's position can cause the AI to have difficulty selecting corners and following the ball, resulting in bad quality videos.
Learn more about setting up your tripod here