In this article, we will show you how to download all the highlights from a Veo recording.
---
All team members with any permission (Admin, editor, or viewer) can download highlights from the Veo recordings.
To download all highlights in a recording:
1. Log in to your Veo account.
2. Open the video with the highlights you wish to download.
3. Open the highlights list (
).
Note that to download all highlights, all of them need to be saved and rendered first.

To save highlights, you need admin or editor permissions.
Please note that once you save an AI highlight, you are the "owner" of it, and only you will be able to edit it.
4. After making sure all the highlights on the list are saved, click on the three dots at the top of the list and then click on Download all (zip)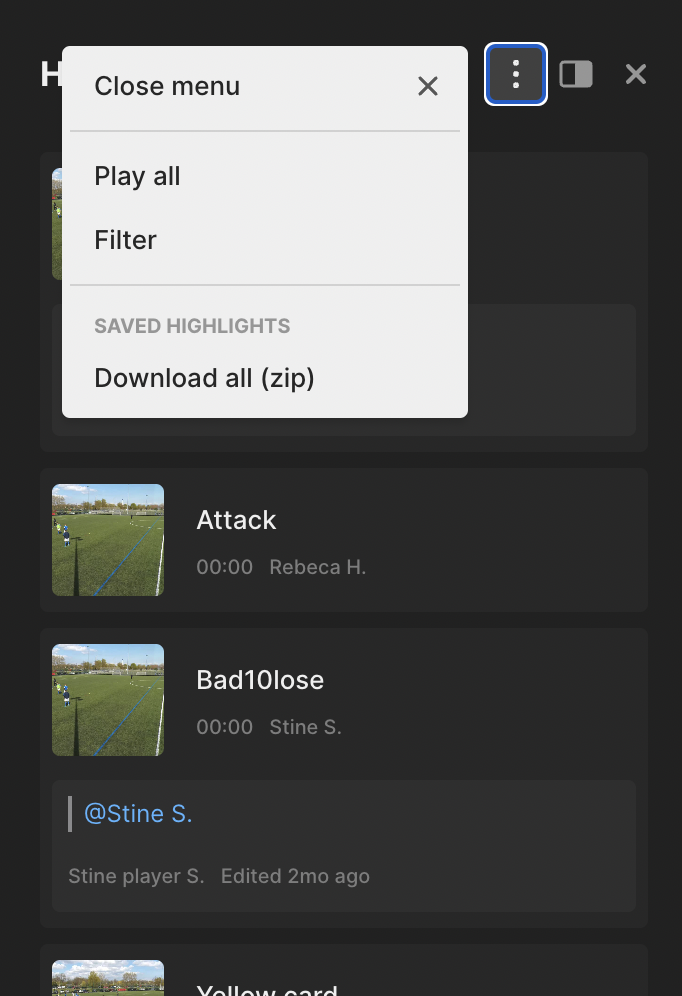 5. A ZIP file containing all highlights will be downloaded to your device. You will need to unzip the file on your end.
The highlight clips are named with a chronologically-sorted number in the front, the timestamp of the highlight in the recording, and then the highlight type.
Note for Mac users: If you're experiencing issues opening the highlights ZIP file, we recommend using the program called "The unarchiver" which is available from the Mac app store.
If you are interested in downloading specific highlight categories, for example, only goals, you can apply a filter, and the downloaded zip file will only contain the filtered highlights.
Lastly, notice if you share the link to the recording with someone who doesn't have a Veo account, or who's not part of your club, they will not have the option to download highlights.