In this article, you will learn how to add highlights and manage them in your Player Profile.
---
Requirements: Player Profile is available for users with a player role only.
You can add highlights from matches assigned to your team right to your Player Profile to showcase your best moments. To add highlights, follow these steps:
On your Player Profile, click on the Edit Player Profile and find the Highlights tab.

 

On the center of the page, you can see all the highlights from all of your matches.
 

 

If you are looking to for specific highlights, you can use the filters option on your left to narrow down the amount of highlights shown on this page.

 

You can filter by:

Bookmarks: Show all highlights that you have bookmarked (e.g. in the Editor)

Mentions: Show all highlights that you have been mentioned or tagged in (e.g. by your coach)

Public recordings: Show all highlights from recordings that has been set to Public in their privacy setting

Recording title: Show all highlights from a specific recording

Highlight created date: Show highlights from a specific time interval

Tags: Show highlights that have been tagged to a specific event in the Editor (e.g. Goals, Corners, Penalty Kicks, etc.)

Highlight created date: Show all highlights that is already public on your Player Profile filtered by its Ability

 

You can watch a highlight before adding it to an ability, just click on the thumbnail image.

 

Once you've found a highlight you want to add to your profile, click on Add Ability + and select the Ability you want the highlight to be featured in.
Once you add the highlights to your abilities, they will be visible in your Player Profile. If you want to find a specific highlight or rewatch something you noticed, use the skip and replay buttons below.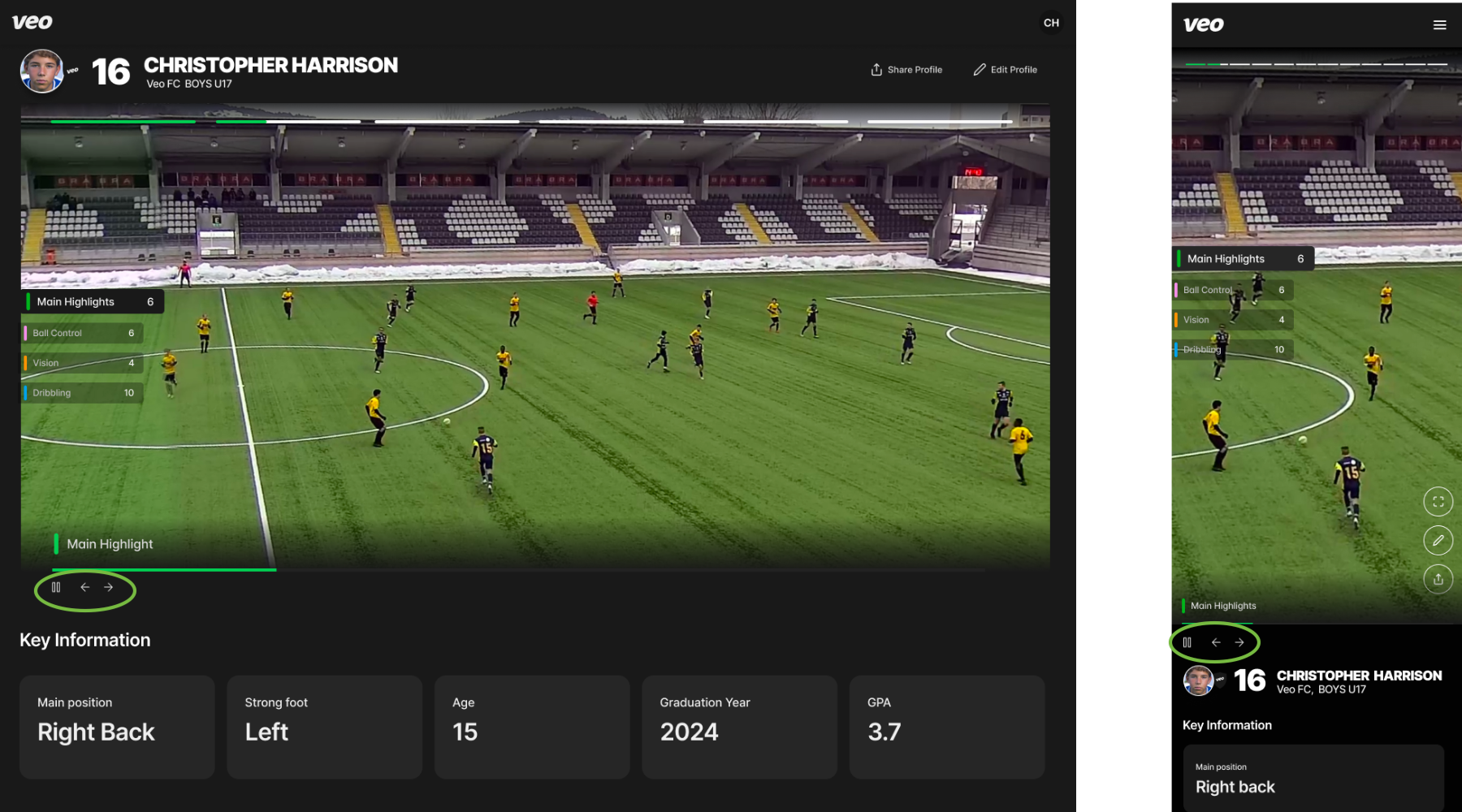 Good to know:
- Main highlights is always displayed by default, you get to choose 4 more abilities to display in your Player Profile.
- One highlight can be added to more than one category.
- If you don't want to display a highlight, keep it as unassigned until you are ready to showcase it.
- Make sure your best moments are shown first by changing the order of the highlights inside each ability, you can learn more about this on the article About Abilities and how to manage them in your Player Profile