This article shows you how to integrate the Veo Camera app with Min fotboll app to live stream your football games in Sweden.
📢 This article is directed to Min Fotboll users. Min Fotboll is the go-to place for all teams at every level of the game in Sweden. 📢
Now all teams and associations in Sweden can live stream the matches with Veo directly in the My Football app - A fantastic opportunity that makes life easier for fans and families who wants to follow their favorite teams as well as a chance for the clubs and teams to earn extra income for themselves
To use this integration, follow the next steps:
1. Update your Veo Camera app on Google Play or Apple's App Store.
2. Navigate to your Min Fotboll app and copy the stream key/stream name of the planned game you want to stream.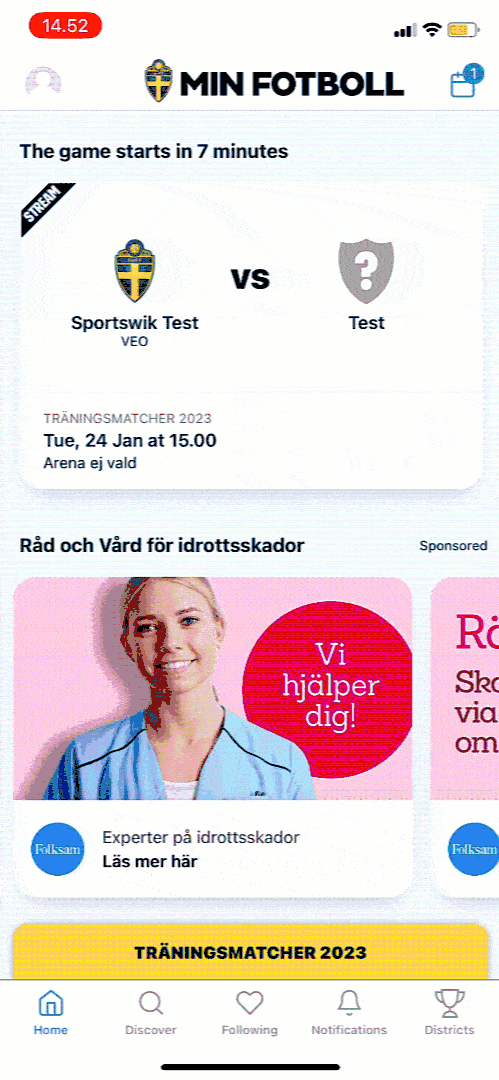 3. Now, start your live stream in the Veo Camera app.
After selecting pitch size, your team, and the opponent team, you will need to choose Destination; choose Min Fotboll as the end destination (default), and insert the copied stream key/ stream name from Min Fotboll into the input field.
When you stream a match to Min Fotboll, the match won't appear in Veo Live; and it will not display the Veo Scoreboard and clock overlays.
Please notice; this is an exclusive partnership signed with the Swedish Football Association. The Swedish Football Association owns the streaming rights to the matches, which are governed by SvFF centrally as well as the local football associations. Therefore, we urge our Swedish customers to use Min Fotboll to live stream their matches.
You can learn more about how to Livestream with Veo Cam 2 here