This article shows you all you need to know about Analytics Studio and how to use it.
---
Requirements: Veo Analytics add-on subscription.
With the Analytics Studio, it is significantly easier and faster to see how your teams are progressing individually and how your club philosophy is performing as a whole.
Breaking down a game is much faster when you have reliable contextual and visual information and can easily see the relationship between a coaching decision and a statistical outcome.
You will find the Analytics Studio inside your team's page on the Veo platform.
Inside the Analytics Studio, you will find:
Key metrics:
Most AI-detected statistics can be enabled as a key metric in the Analytics Studio. Up to 4 key metrics can be added at one time.
If you're a coach with admin or editor permissions in the team, you get to choose the four metrics you want to display in Key metrics. Click edit metrics just above the radial, and you'll see available options.

Progression charts:
The key metrics and the filters can be used to change the Progression Chart. Questions such as 'For the last 3 games where we played 4-3-3, what was our possession %?' can be answered and visualized in just a few clicks, with added context snippets to help you understand.
If you spot something interesting and want to dig deeper, each recording can be opened straight from the chart.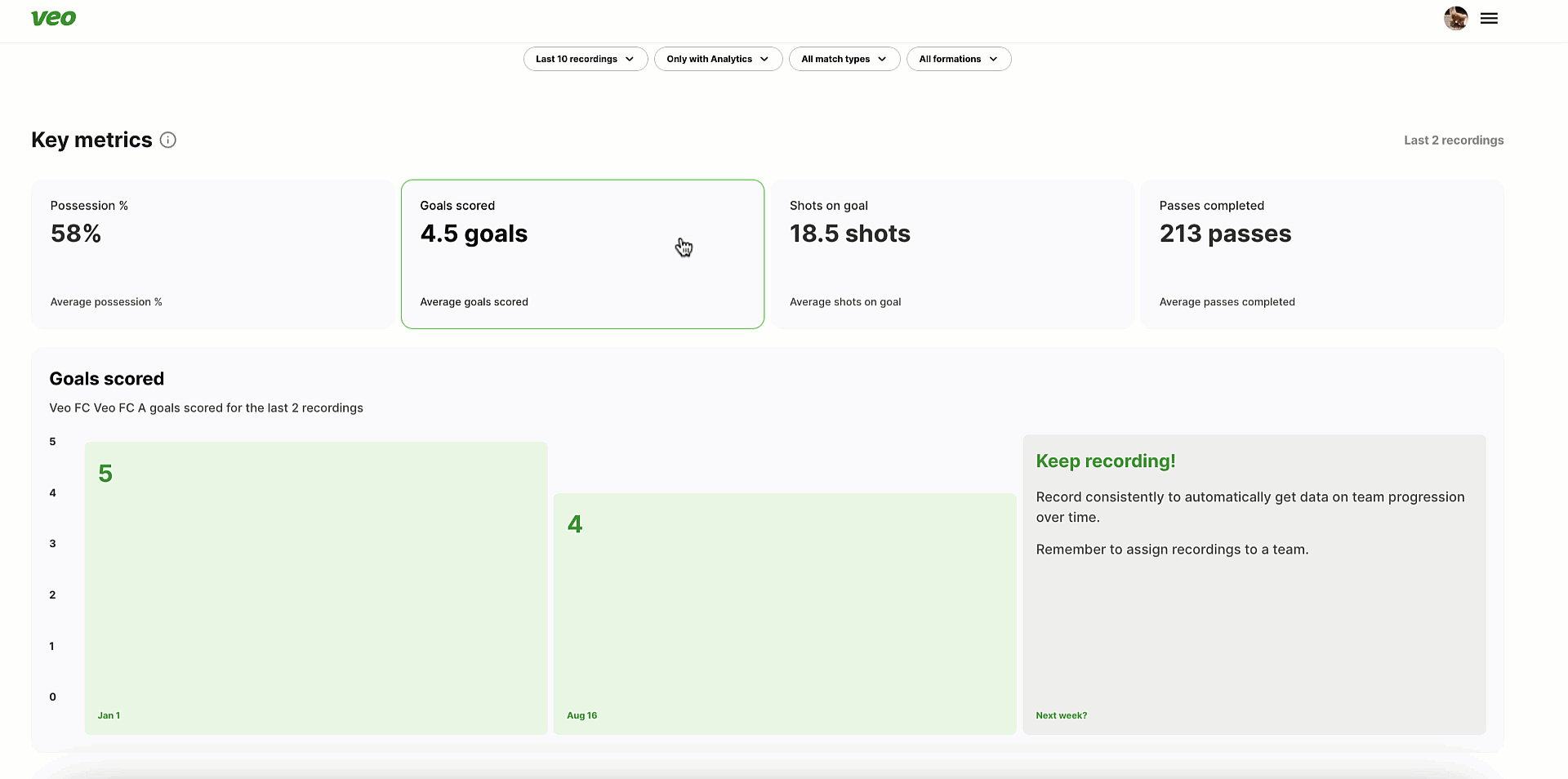 Game maps:
With Game Maps, uncovering trends in shooting, passing, and movement is much easier. For each game map (shot map, passes by location), you can now see aggregated data from previous matches in your Veo library.
Now you can confidently say to your players: 'I think we focus too many of our attacks down our left wing. Look, over the last 3 games, nearly all of our shots are on the left side of the field. We need to get more comfortable switching the ball to the other side and becoming less predictable.'
You can choose to see attacking or defending, and by clicking each dot on the map, you will see a clip of the play. Open the recording, and it will take you to the exact highlight.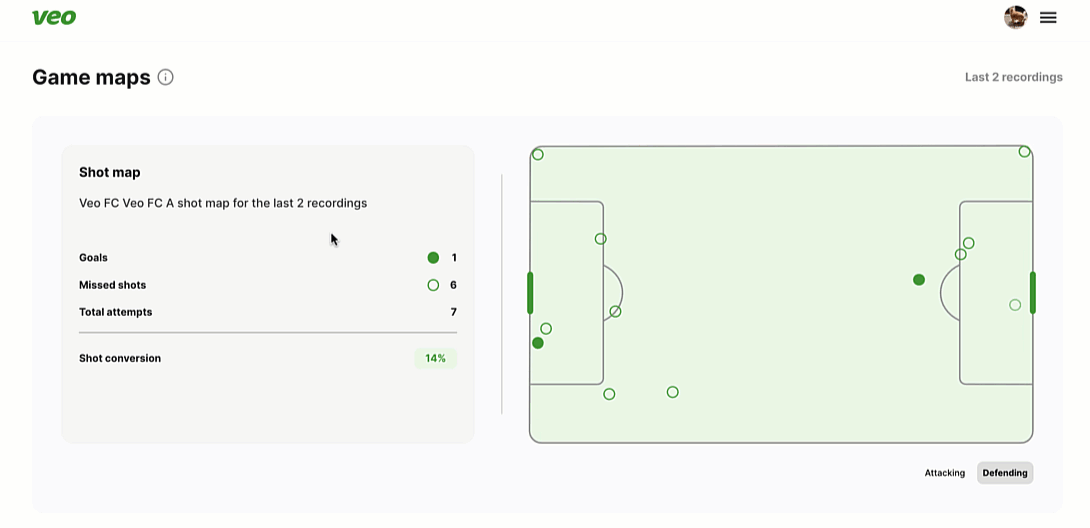 Key metrics in recordings:
In addition, each of your recordings contains the key metrics you see on the Analytics studio.
When reviewing a recording, Coach says: 'Really great attitude today; we are so close to getting our first win of the season. Look, in the previous 3 games, we've lost by only 1 goal, and today we kept a clean sheet. Victory is coming!
You will see the key metrics that you see in the Analytics Studio, also reflected in the analytics menu of each recording assigned to your team.
Comparison radial:
The Comparison Radial lets you quickly compare metrics between teams in your club or assess your own team in different periods. Anyone who can see the Analytics Studio can use it.
If you're a coach with admin or editor permissions in the team, you get to choose the six metrics you want to compare in the radial. Click edit metrics just above the radial, and you'll see available options.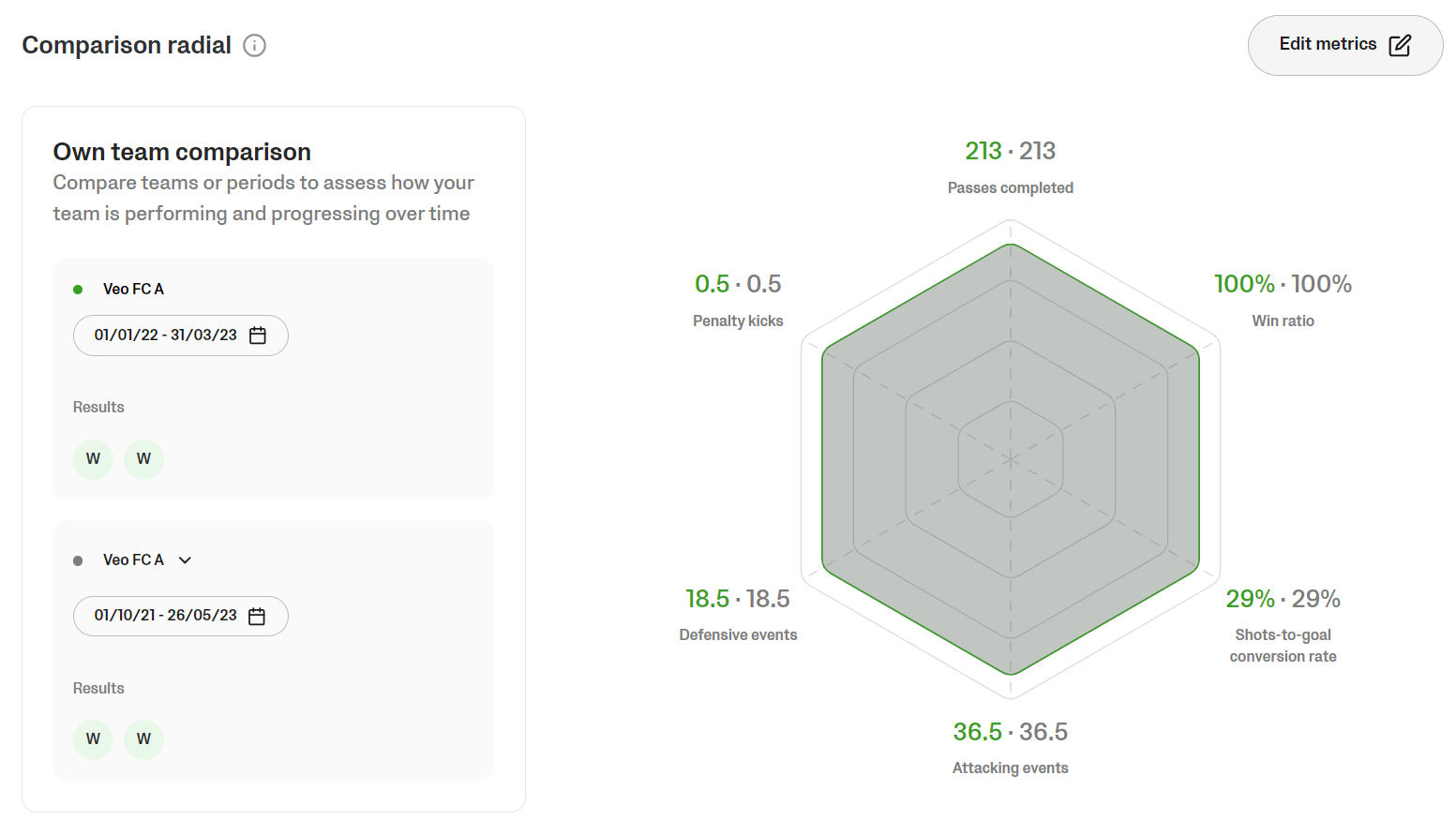 Now you can explain to your players: 'The reason we prioritize possession in this team is because it is part of our club's footballing philosophy. When you move up to the U15s, you'll be expected to be comfortable in possession of the ball. Let's look at their average possession from the last 3 games compared to ours…'
The radial comparison feature enables you to choose a team for comparison with your own team. Additionally, it includes a date selector for evaluating your team's performance across different time periods.
Note: Test Recording match types are excluded from the Analytics Studio.
Analytics Studio FAQ
Why can't I see analytics info on certain videos?
The Analytics Studio will provide an overview for recordings for videos uploaded from January 5th, 2023, onwards. Although it can show you the full list of recordings in your Veo library, you should only expect analytics data for the ones processed with Analytics 2.0 for now.
Who can access the Analytics Studio?
Any member of the team and Club Admins
Why do I see some greyed out colums on the progression chart?
The chart works with the new Analytics features (Analytics 2.0) the greyed out columns you see represent videos that were processed on the previous Analytics version (Analytics 1.0)
Can I change the metrics in the Comparison Radial?
Yes, click on Edit metrics right above the comparison, you get to select the 6 metrics you want. Keep in mind that only Coaches with editor or admin permissions can see and change the metrics to display.